Awareness, Behaviour, Legal and Regulatory Requirements, with Jonathan Armstrong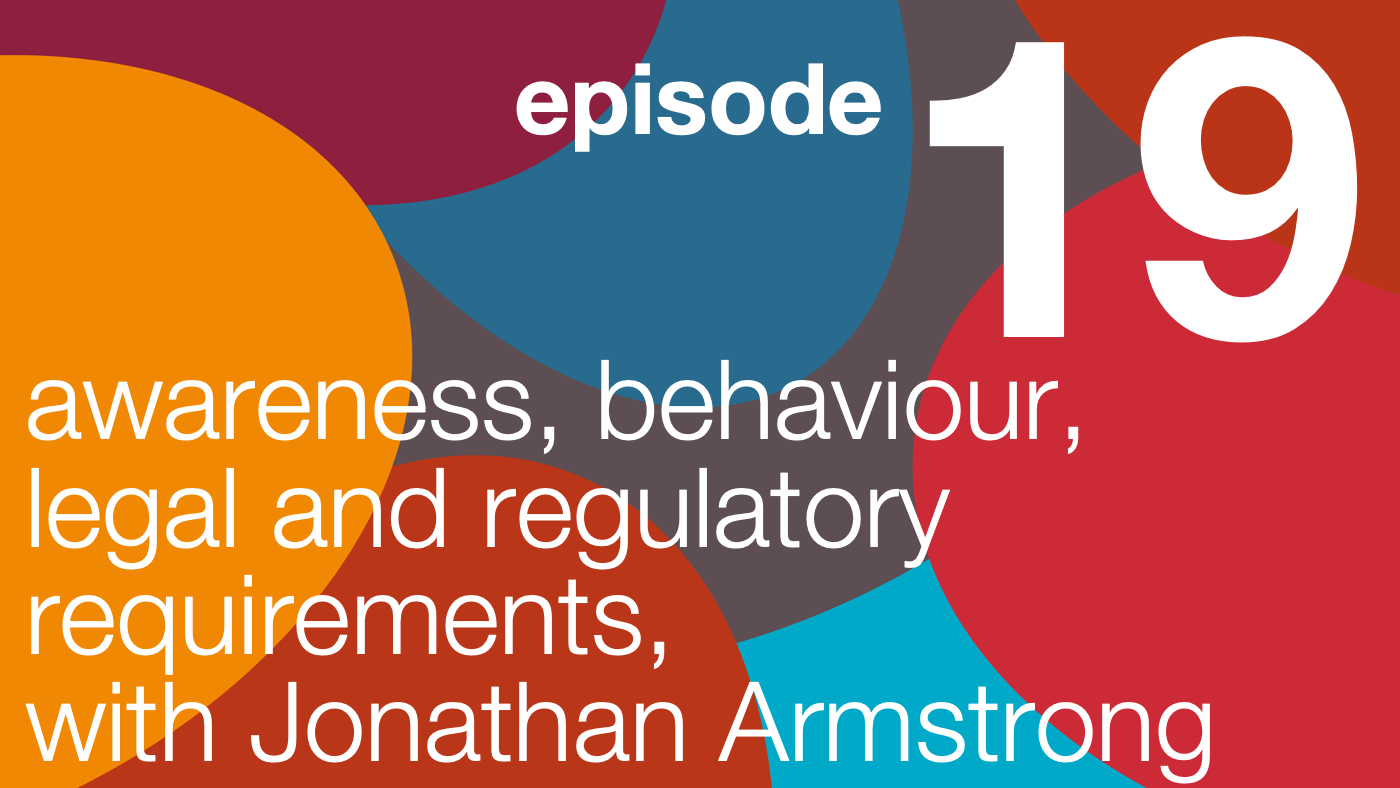 Welcome to Series 2, Episode 7 of the Re-Thinking the Human Factor Podcast. Joining us on the show today is Jonathan Armstrong, a lawyer who helps multinational clients with risk and compliance across Europe. Recent projects include lots on data breach, GDPR & data transfer, UK Bribery Act 2010, internal investigations, ethics & compliance code implementation, emerging technology, and corporate governance & online reputation.
He has also written articles on technology and compliance related topics. He is a Fellow of The Chartered Institute of Marketing (FCIM) and Vice-Chair of the New York State Bar Association International Section.
Jonathan has also spoken at conferences in the US, China, Brazil, Canada, Vietnam, Singapore, Dubai & across Europe. In addition, he's been involved in the development of a number of technology applications going back to the 1990s and was twice a Regional Finalist in the UK Government dti/ISI Awards for Innovation in e-commerce.
Awareness, Behaviour, Legal and Regulatory Requirements
JOIN JONATHAN ARMSTRONG AND BRUCE HALLAS AS THEY DISCUSS THE FOLLOWING:
Training / Practice for helping to not only reduce the likelihood of cyber attacks, but also how to address a problem when something goes wrong (which it inevitably will at some point)
The law is increasingly saying that companies must implement some form of education and awareness training, and when a breach does happen, companies must have their arguments ready pre-breach so they can respond effectively to a breach and be able to defend their efforts to stave off the attack
Those who have managed breaches most effectively are those who have run simulations and had a plan in place
Stakeholder management
The role Education and Awareness plays in terms of how a regulator might look at a breach
How to spot training programs that will pass regulations vs those that won't
The disparity between the cost of high-quality training vs the cost of handling a breach or facing fines for non-compliance
MORE ABOUT JONATHAN ARMSTRONG:
Please subscribe to the podcast in iTunes, and if you enjoyed this interview, please share with your friends and colleagues and leave a 5 star rating and review.
Thanks for listening and sharing.
Bruce & The Re-thinking the Human Factor Podcast Team