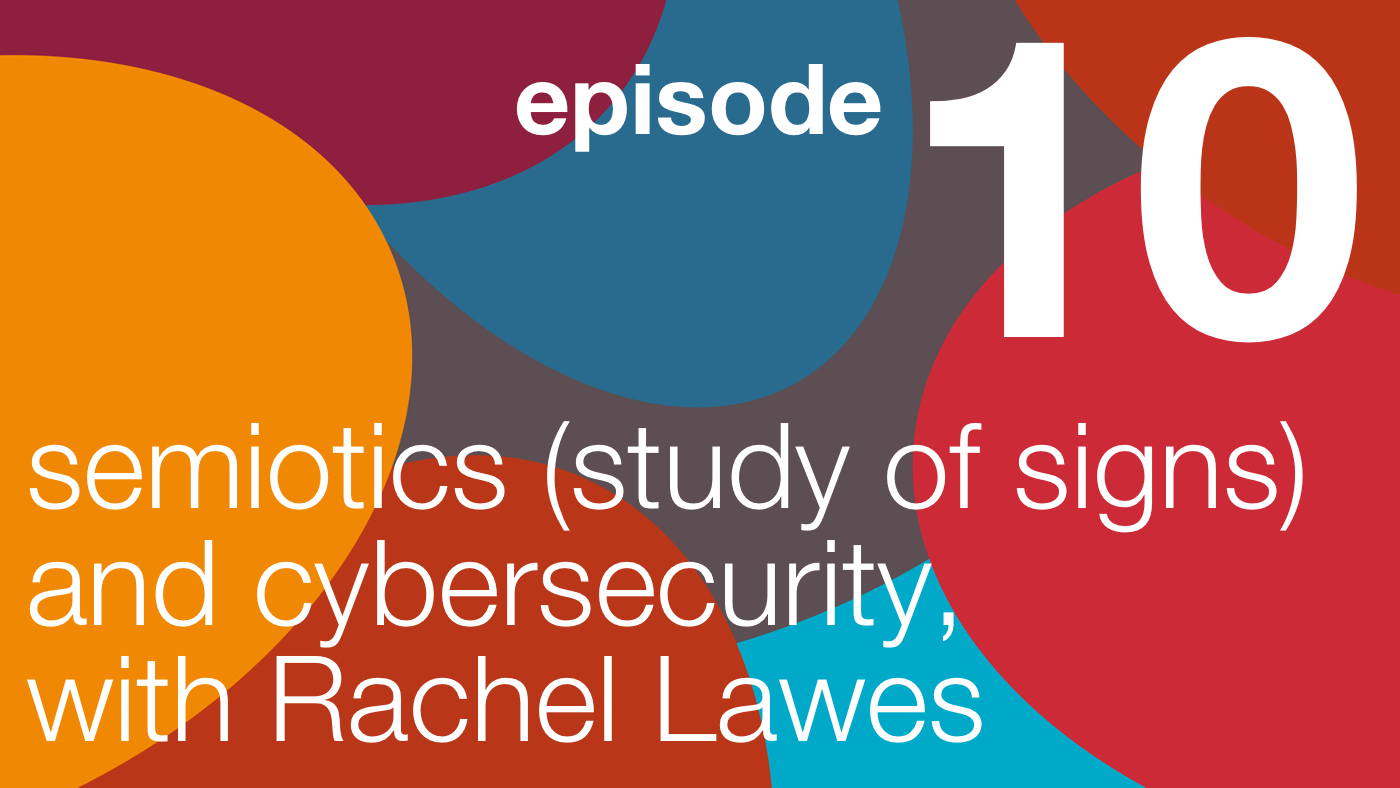 How semiotics can help us engage more effectively
Joining Bruce Hallas on Episode 10 of the Re-thinking the Human Factor Podcast is Dr. Rachel Lawes, who comes to the show with a background in the field of semiotics. Don't worry, if you're not familiar with the term, you're probably in good company.
Semiotics and cybersecurity
However, upon learning more about Rachel and the field of semiotics prior to recording the interview, we knew she had something of interest, substance, and worth to bring to the conversation around Cyber Security Awareness, Behaviour, and Culture.
MORE ABOUT RACHEL
If you go to market research conferences, you've probably met her already. She's one of the original founders of British commercial semiotics and she never stops being excited about what it can do. She uses semiotics and related methods, backed up by a comprehensive knowledge of social science, to rejuvenate brands, innovate products and services and steer comms. She delivers research, insights and strategic guidance to brand owners. She delivers training in advanced research methods for both client side and agency side users. She also supplies consultancy services to ad agencies, design agencies and large branding agencies. 
From time to time she works with universities because she loves to teach. [1]
JOIN RACHEL LAWES AND BRUCE HALLAS AS THEY DISCUSS:
What semiotics is.

In reference to a challenge often put our way regarding the applicability of insights from without the security industry — whether the insights gained through semiotics be applied to both sides of the fence, so to speak, both externally AND internally, as in the case of within an organization.
One fascinating consequence of digital culture — that written language has taken on a life of its own in a way that really hasn't seen in our lifetimes.

It's no longer really required that you follow the rules you learned in school. What's more important is getting your message across, which might involve substantial use of abbreviations, emoji's, etc. People communicate using language and text now more than they have done for a long long time.


The work of semiotics is partly about observing what's going on in a given audience to try to understand what it is they're giving off, what the signs are you see in the audience which may be a reflection on how they would respond to you presenting something to them.
How semiotics can help one engage more effectively and influence changes more effectively.

Studying signs and symbols (semiotics) gives one an understanding of what is driving people's behaviour from a cultural perspective. This is important because, as discussed with

Gert Jan Hofstede in Episode 06 of the Re-thinking the Human Factor Podcast,

culture forms everybody – there's no escape from it.



FURTHER STUDY AND RESEARCH

MORE ABOUT RACHEL LAWES:
Please subscribe to the podcast in iTunes, and if you enjoyed this interview, please share with your friends and colleagues and leave a 5 star rating and review.
Thanks for listening and sharing.
Bruce & The Re-thinking the Human Factor Podcast Team